Discover more from MSInspir's Newsletter
A newsletter full of opportunities and events
Over 2,000 subscribers
MSInpir Newsletter #03
The long wait is over...your next newsletter filled with opportunities is here!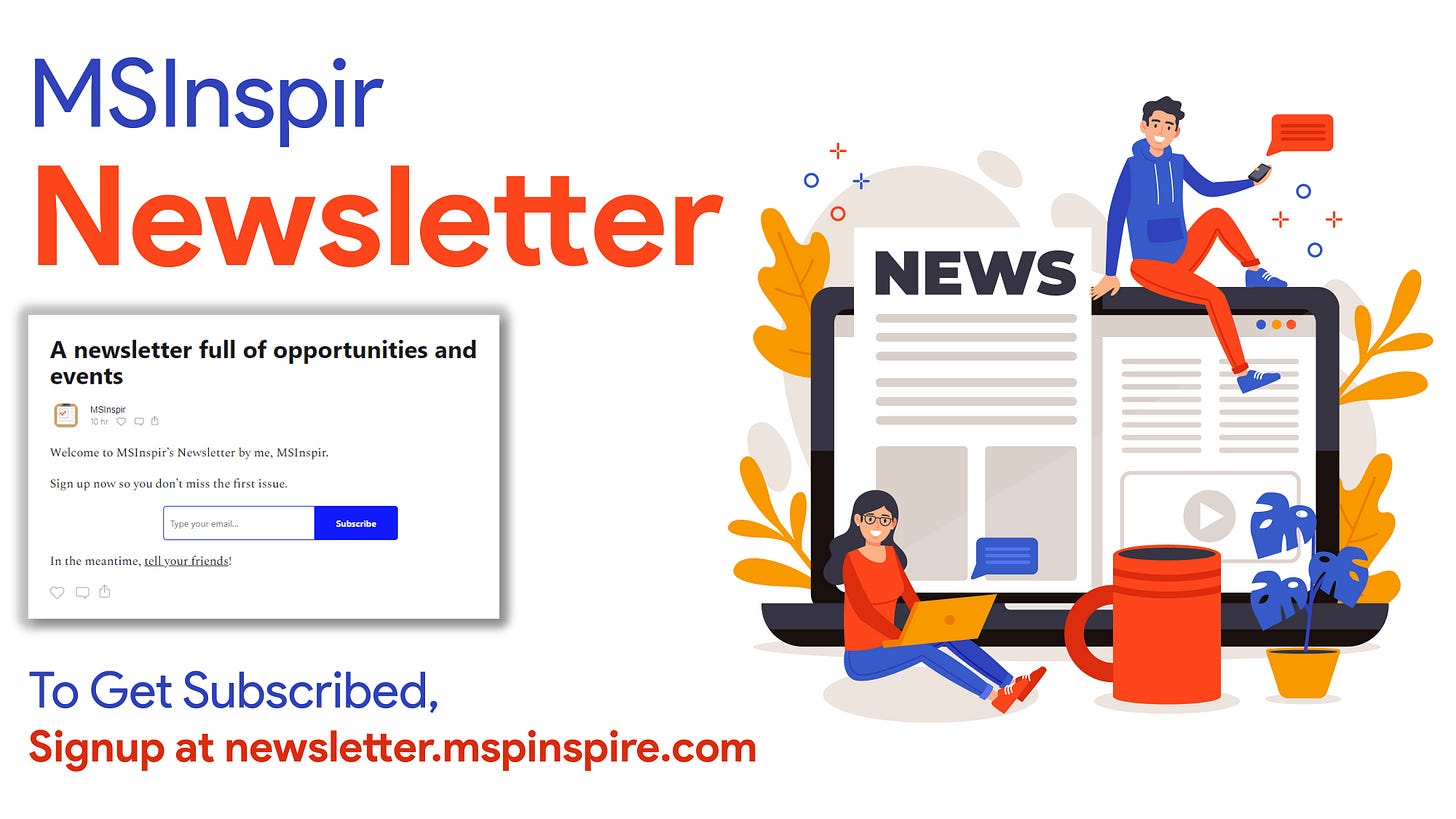 Did you miss us? We spent the last few months revamping our newsletter strategy and figuring out the best way to reach you! We are beyond ecstatic to introduce Issue #03 of MSInpir Newsletter!
This time, we have curated the opportunities as per different regions, so every subscriber knows what's on in their community!
With love,
MSInspir Team,

---
🚀
Opportunities
🌎 Worldwide:
Machine learning in the browser with TensorFlow.js (August 8): This session will give you an introduction to what Machine learning is and what types of problem you can solve. TensorFlow as a library will be introduced and then TensorFlow.js will be presented with a focus on how you can use a machine learning model in your JavaScript application.
Stun and Awe Academy Scholarship: The program allows participants to join our Growth Leap online training and boost their business builders' skills and accelerate their startup's growth.
Silly Hacks (September 18-20): Hackathons are fun, but we have forgotten that. Silly Hacks is a 48 hours of global online hackathon where you can build anything and everything. Make the funniest, silliest hack that brings a smile to people's faces
Global AI Community CFP (September 15): On the 7th / 8th of October the Global AI Community is kicking of the Global AI on Tour with a virtual 30 hours live conference. Starting at 10:00am in Auckland and ending at 21:00 in Seattle.
🌍(NEW!) Middle East and Africa
Youth Day of Service (August 12-18): Initiated by LEAP Africa, The Youth Day of Service (YDoS) is an annual youth-led social impact campaign with the 'Sustainable Development Goals' (SDG) in focus.
Savvy Fellowship: Savvy is a virtual Fellowship program for passionate and brilliant young professionals seeking to be part of the new generation of impact entrepreneurs.
Open Learning Scholars Program at Arizona State University: Not everyone can travel or take time off to pursue their studies. This program will bring online credentials and degrees from top accredited universities to Arab youth anywhere they are - at zero cost to the student.
🌍(NEW!) Asia
Google Software Engineering Intern, Summer 2021: As a Software Engineering Intern, you will work on Google's core products and services as well as those who support critical functions of Google's engineering operations.
Microsoft Intern Software Engineer: MSIT India employs a pool of talented IT professionals who consider the Centre as a great place to build their career, and help the customers and partners realize their full potential.
---
📰
Articles to Read
Hackathon To-Dos 101: Learn from Aditya Oberai, a fellow Microsoft Learn Student Ambassador all about hackathons and how to make the most out of your first one!
How I Landed a UX Design Job in a Month with No Design Background or Bootcamp: Megan Ng shares her experience of getting a foot in the door of the UX industry without a degree in the field. A useful read for all those considering a career in UX Design.
What and Why React.js: React.js is the most popular front-end framework for Web applicatoons. In this article, we will learn what React.js (or simply React or Reactjs) is and why we should use Reactjs instead of other JavaScript frameworks like Angular. 
---
📅
Catchup on MSInspir Events:
MSInspir Insights EP #01: Get all updates about Microsoft Student Ambassador Community and across you in a matter of seconds. Any opportunity can create a great difference in your life so don't miss any opportunity and stay tuned with the program.
Introduction to MS Learn |The Explorer's Guide to Being a Microsoft Learn Student Ambassador: MSInspir had collaborated with few Ambassadors in the community and we created an awesome playlist based on "The Explorer's Guide to Being a Microsoft Learn Student Ambassador"
Dev2Be with Bill Wagner: We are honored to have Bill Wagner, Senior Content Developer at Microsoft, and co-founder of the Humanitarian toolbox as our guest on Dev2Be sharing his story and inspiring us to do more and how consistency has mattered.
Recruitment Season Tips from Salman Chishti: Advice for internships, placement season and how to stand out in the developer community in this 4 part series.
---
✍🏻Feedback
As always, we would have never reached where we are now without the constant support and feedback from all of the Microsoft Learn Student Ambassadors community.
If you have any suggestion related to the newsletter or MSInspir events feel free to send us an email at msinspir@outlook.com or leave a comment below!